Berichten: 1168
Lid geworden op: vr 09 jan 2009, 14:19
Locatie: Fergus, ON. Canada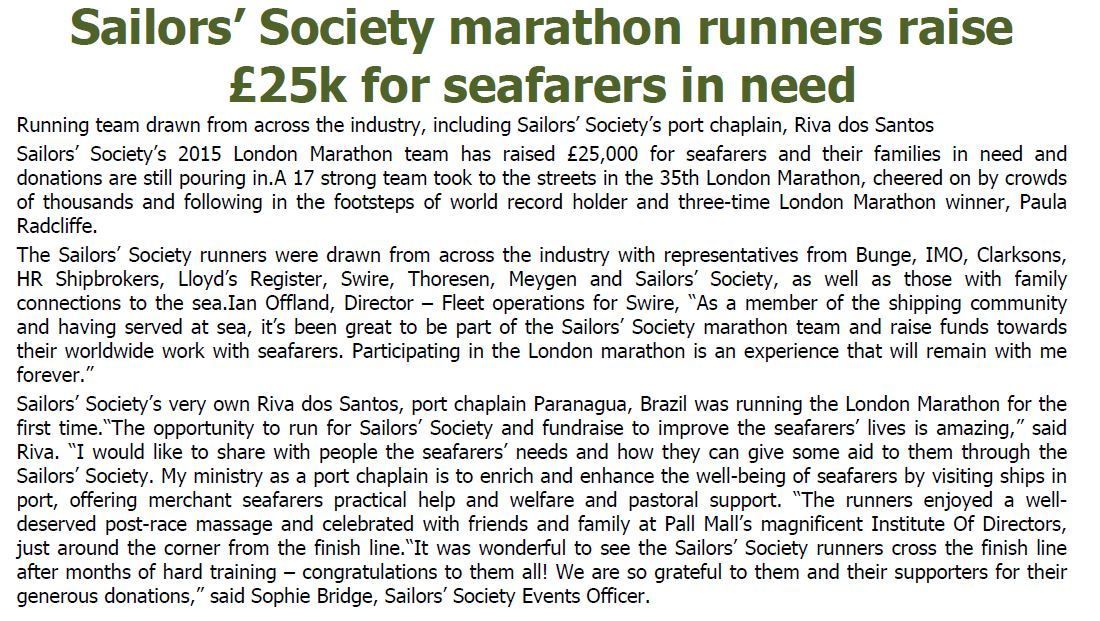 Hartelijke Groet/Kind regards.

Jan van der Doe.

Varen is noodzakelijk, leven niet.
---
Berichten: 1168
Lid geworden op: vr 09 jan 2009, 14:19
Locatie: Fergus, ON. Canada
Hartelijke Groet/Kind regards.

Jan van der Doe.

Varen is noodzakelijk, leven niet.
---
Berichten: 1168
Lid geworden op: vr 09 jan 2009, 14:19
Locatie: Fergus, ON. Canada
Houdt het dan nooit op.
Anchored Cornelia in limbo as probe nears one month
12/3 - Duluth, Minn. – Before the oceangoing freighter Cornelia became the subject of a federal investigation and month-long detainment offshore from Duluth, it was docked in the Duluth-Superior harbor and received by Pastor Douglas Paulson like every other foreign vessel he greets and boards.
It was early November, and the director of the local Seafarers Center recalled delivering Christmas boxes to the 20 men on board Cornelia. The boxes contained hand-knit hats and scarves as well as ditty bags full of shaving cream, toothbrushes, shampoos and notepads.
"We've been doing this for a number of years — we start at the beginning of November until the season ends the third week of December," Paulson said. "It's a way for us to extend some kind of hospitality."
Nobody knew then that the Cornelia would be forced to anchor offshore from Duluth before it ever got underway with a load of grain bound for either southern Italy or northern Africa.
The tight-lipped investigation "for alleged violations of U.S. environmental regulations," repeated the U.S. Coast Guard on Tuesday, has yielded no arrests, said Petty Officer 3rd Class Christopher Yaw of the Cleveland-based 9th District of the U.S. Coast Guard.
But the investigation has resulted in a crew stranded tantalizingly close to shore and a cargo going nowhere fast.
"A lot of people are being hurt here that didn't do anything wrong," said Stephen Sydow, a Duluth-based vessel agent for his family's Daniel's Shipping Services, which serves as the local logistics connection for foreign business interests. "It's straining business relationships on three different continents, and it's not a good thing for the port of Duluth."
When reached by the News Tribune, neither the Coast Guard nor the U.S. Attorney's Office for the District of Minnesota would elaborate on the investigation, but Sydow said he believed the probe has boiled down to a negotiation over the final dollar amount of a proposed monetary settlement or fine.
Matthias Ruttman, managing director of the ship's operator, the German company MST, seemed to corroborate that assessment when he said MST was "waiting for the owners to make decisions."
MST operates dry-bulk carriers on the Atlantic Ocean, but the ship is owned by a German bank and registered in Liberia.
A third party, Canada's Fednav, was chartered to manage the boat through the Great Lakes St. Lawrence Seaway System. Fednav could not be reached for comment in time for this story, but Sydow said it was another example of the entities being affected, including the flour millers at the end of the line in either Italy or Tunisia, a detail that had yet to be determined when Cornelia first landed in Duluth.
"That was going to be declared later, by the guy who bought the cargo — many times it's decided later where he needs it most," Sydow said. "The company that rented the ship and is receiving the cargo is really seriously suffering. You can't get millions of dollars of cargo, not have it delivered and not have it affect your flour mill."
Adding urgency to the situation is the fact that the international seaway system through the Great Lakes is scheduled to close at the Welland Canal on Dec. 26 at 11:59 p.m. The canal joins lakes Erie and Ontario near Niagara Falls and is the first domino to fall in the closing of the foreign shipping season on the Great Lakes. Travel through Montreal on the St. Lawrence River closes Dec. 30.
"You back it up from there, allowing for bad weather and maybe a tiny amount of ice," said Duluth Seaway Port Authority spokeswoman Adele Yorde. "We tend to see the last saltie out of Duluth on Dec. 16, 17 or 18. After that is pushing it."
The prospects of a protracted stay through the winter for the Cornelia are complicated. Sources for this story painted an unsettling picture. Shore passes for the crew are long expired. The grain probably would need to be offloaded and the vessel refueled and brought to dock, lest it be anchored and left to the mercy of the Lake Superior ice sheet. The vessel already is costing multiple entities across the world upward of thousands of dollars per day for being out of commission, and a lay-up would be exorbitant.
Then, there is the human cost for a crew that Yorde said is a diverse mixture of nationalities, hailing from the Czech Republic, Ukraine, Croatia and Phillipines.
The 575-foot-long Cornelia was built in 2000, making it less likely it would be Wi-Fi equipped, said Paulson, who is accustomed to bringing telephones and Wi-Fi hotspots aboard docked foreign vessels so that crewmembers can communicate with their families.
While it took on grain over two days at the CHS elevator in Superior, a number of crewmembers were transported by the Seafarers Center to the mall. They've had no such luxury since.
The local Sea Service, which supplies vessels with commodities and commissary items for crewmembers using its telltale blue-and-yellow pilot boat, the Sea Bear, told the News Tribune it has not visited Cornelia.
Paulson explained that while he holds security access for boats docked in the port, he is not allowed to board vessels at anchor out on Lake Superior. He was happy he delivered hats and scarves when he did.
"At least we did that so they could add some layers," he said.
Sources agreed it's likely the crew has run out of fresh food and is subsisting on canned and boxed fare. Paulson said he continues to check in with the Coast Guard to see how the crew is doing. Sydow is in contact with the captain and is eager to give the go-ahead for the Cornelia to get underway. Nobody, it seems, has an inkling of when that could be.
"I've had a number of people I've run into ask," Paulson said. "First of all, they're wondering what's going on, and I don't know that anybody has been given the full story. The other piece is that it does concern people how the crew is doing. They ask, 'Are they OK?' That's a long time to be sitting there not able to go anywhere."
Duluth News Tribune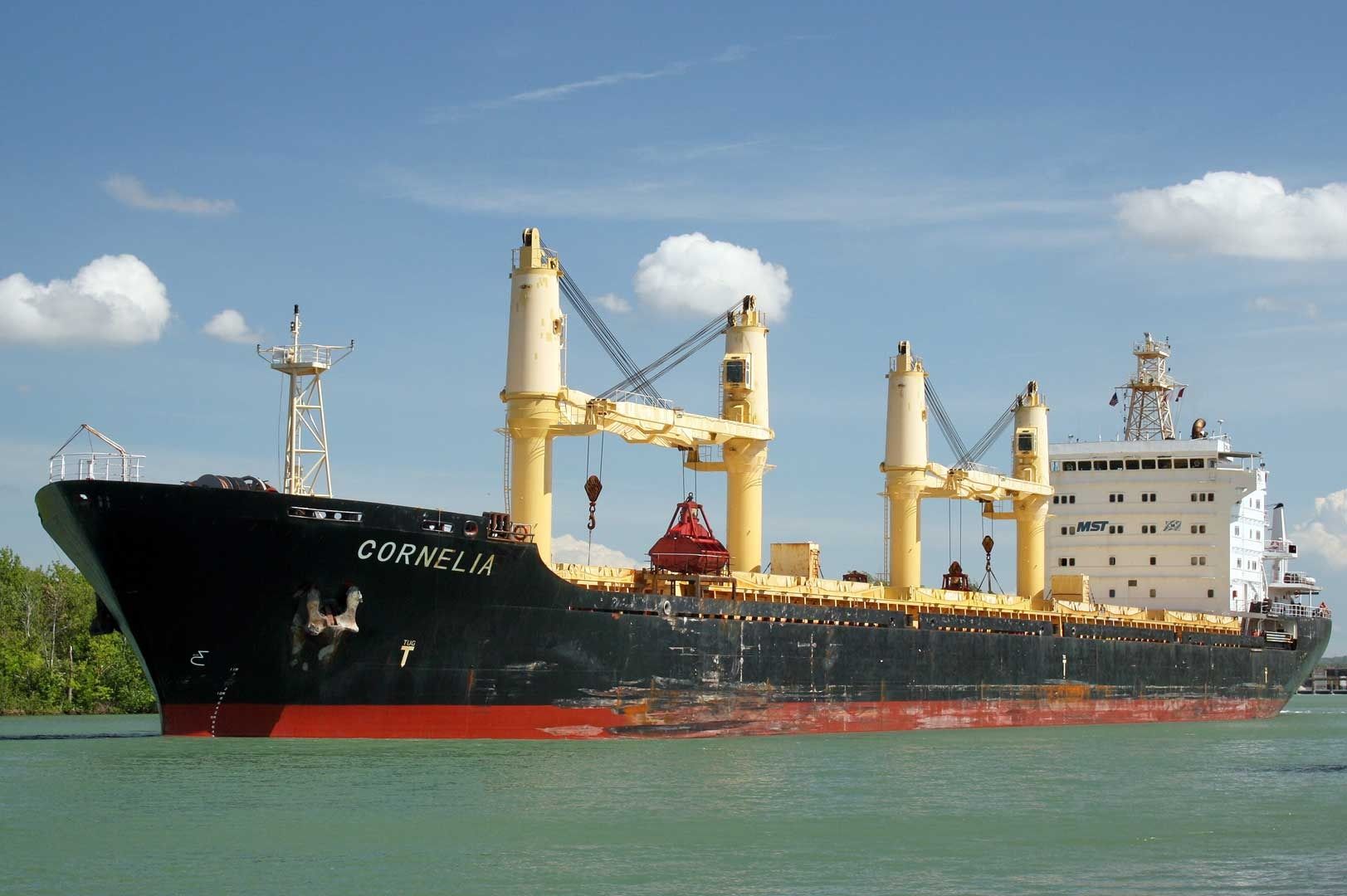 Photo: Barry Andersen
Hartelijke Groet/Kind regards.

Jan van der Doe.

Varen is noodzakelijk, leven niet.
---
Berichten: 1168
Lid geworden op: vr 09 jan 2009, 14:19
Locatie: Fergus, ON. Canada
Hartelijke Groet/Kind regards.

Jan van der Doe.

Varen is noodzakelijk, leven niet.
---
Berichten: 1168
Lid geworden op: vr 09 jan 2009, 14:19
Locatie: Fergus, ON. Canada
Sailors to enjoy better working rights

China's ratification of the 2006 Maritime Labour Convention will improve conditions in the world's third-largest
merchant fleet and attract more people into the industry.n 2001, when Zhao Changyou became a merchant sailor at
age 25, the first job he was given was scrubbing the greasy floor of a cargo ship's engine room.The noise was
deafening, and the temperature was usually higher than 40 C. Away from his job, there was no bathroom in the cabin
he shared with another sailor. Working conditions have improved greatly in the past 15 years, according to Zhao, who
is now chief engineer on an oceangoing freighter. "At least every member of the crew has their own cabin," he
said.Despite recent improvements, the working environment is still tough.Having recently returned after a two-month
voyage in the Pacific, Zhao said his family, in East China's Anhui province, complained that he spoke too loudly, as if
he was shouting at them, but without noticing"I am used to shouting when working in the noisy engine room, and the
noise may have caused some hearing loss, even though I wear earplugs," he said. "Mariners' living and working
conditions still need to be improved, or people will leave an industry that is very important to the national economy."
Seafarers' Bill of RightsLast month, China formally completed its ratification of the 2006 Maritime Labour Convention,
also known as the Seafarers' Bill of Rights, designed to promote greater adherence to employment law in the shipping
industry. Established by the International Labour Organization, the convention sets minimum requirements for almost
every aspect of working conditions at sea, including terms of employment, hours of work and rest, accommodation,
recreational facilities, food and catering, health protection, medical care, welfare provision and social security
protection.When the convention comes into force in China on Nov 12, 2016, sailors serving on merchant ships flying
the Chinese flag will be guaranteed standard working conditions."Welfare standards for seafarers must be safeguarded
by legislation," said Yu Hongjiang, consultative director at the Maritime Safety Administration. "Many Chinese seafarers
sign up for temporary contracts with few benefits," he said, adding that few mariners have health
insurance.Furthermore, wage arrears are commonplace, and it's not unusual for companies to hold salaries back for
three to four months. In some cases Yu has studied, the sailors were forced to wait more than two years to receive
wages they were owed, despite repeated protests to the shipowners and maritime officials. According to Yu, when a
mariner signs a five-month contract, the employer will usually pay a percentage of his wage at the start, usually 50 or
30 percent, but when the contract ends, it's highly likely that the employee will not receive the remainder of his
payment.The situation gets worse if an occupational injury occurs. "The risk of injury or even death is high when
working on the open ocean. Employers definitely don't want to pay for cover, and if the sailors don't have insurance,
they have to pay all the costs themselves," he said. "Of course they can sue, but it takes years, and even more money,
to get a result."The decline of the shipping industry since the 2008 global economic crisis has placed shipowners under
even more pressure, he said"Let's say hiring a sailor costs 10,000 yuan ($1,500) a month. If the sailor asks for
benefits and insurance, it pushes the cost up to 40,000 or 50,000 yuan a month, so the shipowners will try anything to
avoid paying for insurance," he said.The convention will ensure decent working and living conditions for sailors, and
will also protect shipowners who provide decent working conditions for their employees from unfair competition from
substandard operators, he said. China is one of the most important maritime nations in the world, with the thirdlargest
merchant fleet and the biggest number of seafarers-620,000, one-third of the global total."The ratification of
the convention is not only a prerequisite for the Chinese shipping industry, it's also critical for the industry worldwide,
and even more important for the global economy," Yu said.Since 2010, China Ocean Shipping (Group) Co, the
country's largest global shipping business, has made efforts to keep in step with international labor standards.After
launching a pilot project on one of its cargo ships in 2010, COSCO imposed the convention's standards on all its
vessels in 2013.Inspections are much more detailed for uncertified ships, and a "no more favorable treatment" clause
in the convention is designed to ensure that the ship has complied with the convention's provisions.In that way, the
convention also applies indirectly to ships of non-member countries if they plan to call at ports owned by a member
state, according to Jia Guangchao, a human resources manager at COSCO."We were determined to meet the standard
anyway. So, since the very beginning, COSCO has invested a lot to implement the convention," he said.COSCO
believes that experienced, motivated sailors are among the most important resources for shipping companies, so they
deserve decent working conditions and welfare provision."We give a dozen seafarers a ship and cargo worth a
combined $1 bill-ion and let them take it out on the ocean. We have to trust them. We have to build a strong
connection with them by providing good jobs and careers they can be proud of," he said, adding that fewer people are
willing to work as sailors now.In 1993, when Jia made his first voyage, as a young officer on a cargo ship, he earned
more than 2,000 yuan a month, an enviable sum at a time when the average monthly income in Beijing was no more
than 1,000 yuan.Now, though, the monthly salary of an ordinary mariner ranges from 10,000 to 20,000 yuan, little
higher than white collar workers in big cities, he said."When I was studying navigation in Dalian (Liaoning province), I
had classmates from big cities such as Beijing and Shanghai, but now few people from those cities join the shipping
industry," he said. "Even among students who study related majors, 10 percent abandon maritime work after their first
voyage." Liu Yue, a 39-year-old freighter captain, said that when he joined the industry 18 years ago, his friends in his
hometown in Jiangsu province all envied him because his salary was five times higher than theirs, and he was able to
travel overseas, which was still a luxury for most Chinese."Now, many young sailors on my ship are thinking about
quitting. I'm disappointed, but I understand. Working on the ocean is tough and now the income has fallen, they have
more choices on land," he said."I hope the convention will improve working and living conditions and make being a
mariner a respectable profession.

"Source: China Daily
Hartelijke Groet/Kind regards.

Jan van der Doe.

Varen is noodzakelijk, leven niet.
---