Berichten: 1372
Lid geworden op: vr 09 jan 2009, 14:19
Locatie: Fergus, ON. Canada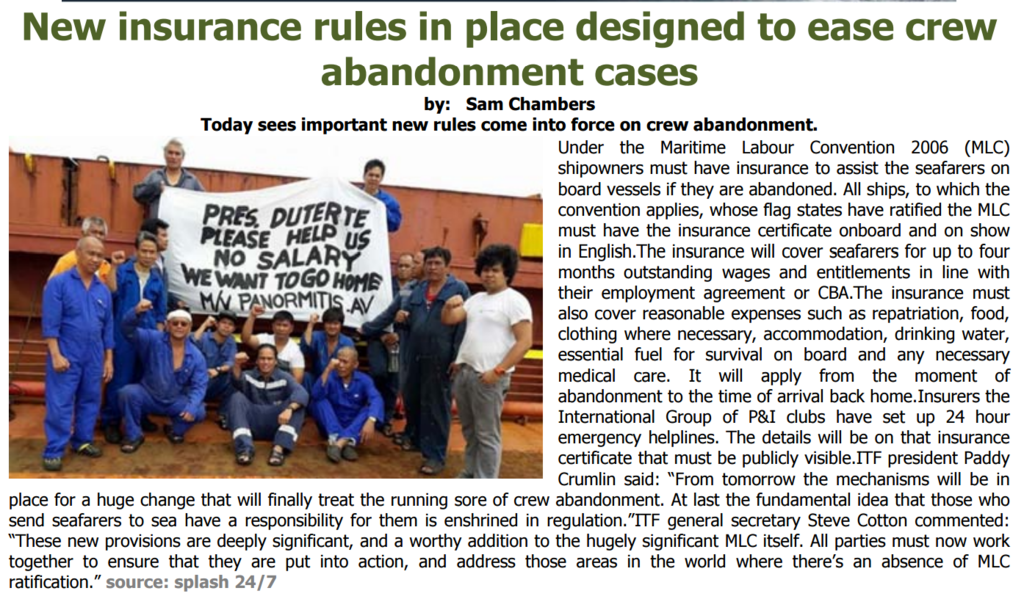 image hoster
Hartelijke Groet/Kind regards.

Jan van der Doe.

Varen is noodzakelijk, leven niet.
Berichten: 18
Lid geworden op: vr 24 mei 2019, 22:57
Viewpoint: Making seafarers feel at home
23 May 2019 Michael Grey

WHAT do seafarers want to find in their clubs and centres when they reach port? A warm welcome, human contact and a safe space in a strange place may be a simple enough wish list with which to start.
The author Rose George tells of a ship's crew who wished above all else to walk on some grass, after months confined in their steel box. But their wishes tend to be surprisingly modest, if you ask people charged with the provision of running seafarer centres around the world.
If you inquire of seafarers themselves, says the Mission to Seafarers secretary-general Andrew Wright, they will probably think of the things with which they are familiar.
Communications, transport and a warm welcome will probably feature, so there is a challenge to think more widely about welfare provision, especially at a time when wi-fi is more generally available on-board ship and most will have their own devices. The old days of seafarers queuing to use telephones to call their relatives are long gone.
So, what will bring them to their centres?
It is an important question to the MtS, with more than 120 of these facilities around the world; some old and perhaps a bit jaded, others representing new thinking and reflecting the changing life of the modern seafarer.
In my day the mission tended to show its Victorian antecedents, with often large solidly built premises, close to the docks. The docks have in many places long gone, the ship's crew is smaller in number and in port for hours, rather than days.
If you come ashore from a ship, reflects Mr Wright, you probably do not want to sit in a seafarer centre full of ship models or pictures of ships. You would prefer something rather "homelier".
It is a significant challenge, he says, to provide what people want in the right places.
The MtS itself is going through change and there is a need to convince the local teams who run centres around the world to "have a rather different vision". It is important, he suggests, to encourage "local entrepreneurship", to provide the right "customer service" and ensure that there is a plan to develop what has been the traditional income stream from shops and the provision of communications services. But the welcome remains as important as it ever was.
There is no shortage of good ideas that will provide seafarers with a better experience.
There is a current focus on seafarers' health — there may be small gyms on board ship, which are not notably inviting, so can the MtS encourage better provision, or provide fitness programmes for seafarers to use while at sea, even the advice of personal trainers?
In the German centres (the MtS does not mind who has the good ideas), they have teamed up with health providers to help seafarers and even offer quiet advice on mental health.
What can be learned from "best practice" around the world?
Those who manage seafarer centres are often isolated but benefit when regional directors come together to share ideas.
In the African centres a business consultant offers pro-bono assistance with the MtS retail services — allowing the shops to be run in a more business-like fashion. And on the other side of the Indian Ocean, serving those in the bulk terminals of Port Hedland, Western Australia, there is a sizeable and well-stocked supermarket available.
There is no "model" centre that will fit every port and they will vary widely; although the tendency is to be less "resource heavy", says the secretary-general.
But they tend to be smaller facilities, like that recently opened in Port Talbot, serving the long-range ships that call at the Welsh steel port. A shop, a café, space for games and table tennis, along with a quiet area, all provide a friendly escape.
Other centres have been developed as partnerships, like the complex that is being built in conjunction with developers in Hong Kong, or the self-funding facility in Dar es Salaam, Tanzania, in which a partnership with a local developer has provided the MtS with two floors, swimming pool and "state of the art" facilities.
At the London Tilbury Seafarers Centre in Tilbury Docks, clever professional design has transformed an unprepossessing small building into a comfortable and welcoming space.
Managed by the charity Queen Victoria Seamen's Rest with the MtS, Apostleship of the Sea and Sailor's Society providing an ecumenical ministry, it is a little bit of London, provided for those who will not be able to reach the city during their stay.
There is a shop and café, with London souvenirs always popular. There is a pool table, a basketball court and somewhere pleasant to sit outside. There are comfortable armchairs, a small chapel and a quiet room, where people can enjoy not having the everlasting noise of generator propulsion machinery. There is a 24-hour lounge open outside working hours.
The cheerful Canadian MtS chaplain Miranda Peters says that the staff are constantly looking for ways to connect with their visitors, with transport from their ships and a busy ship visiting programme.
Tilbury has an active port welfare committee and that is clearly appreciated. When ships are at the Tilbury Cruise Terminal, a little temporary base is established at the terminal coffee shop to assist the crews. It is, says the chaplain, all about the need to provide "human interaction" for people who can be quite isolated.
There is no sense that the need for seafarer centres is in any way diminishing.
Andrew Wright says visitor numbers to the MtS centres rose 16% last year. They may not offer a spectacular "visitor experience", but the welcome that is given to all seafarers is sincere and that is what matters.
Berichten: 70
Lid geworden op: di 20 aug 2019, 23:11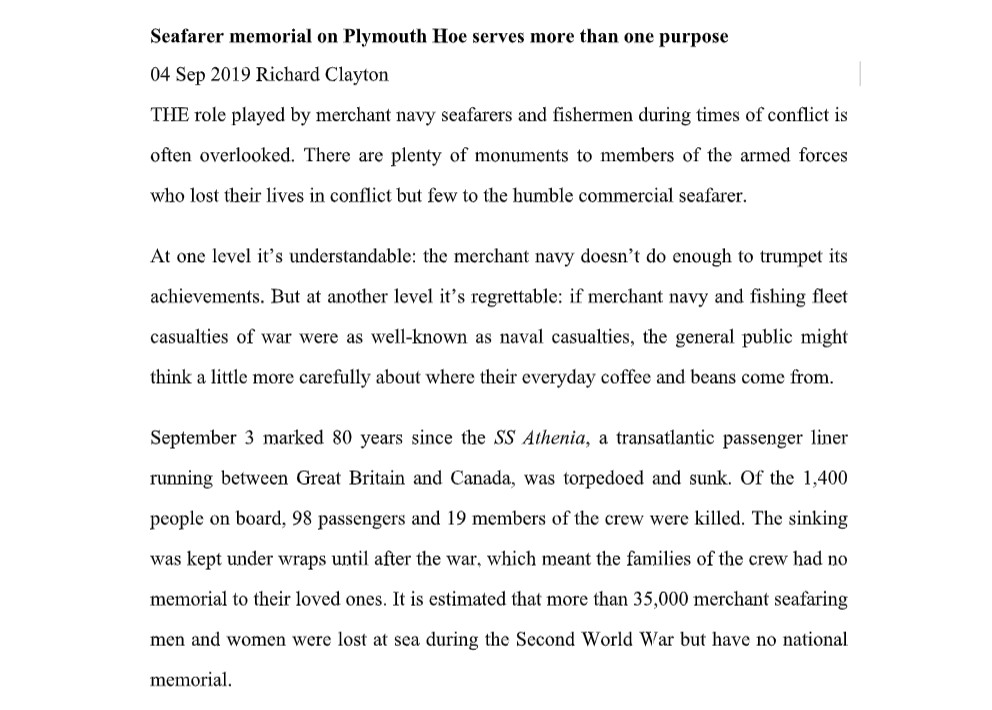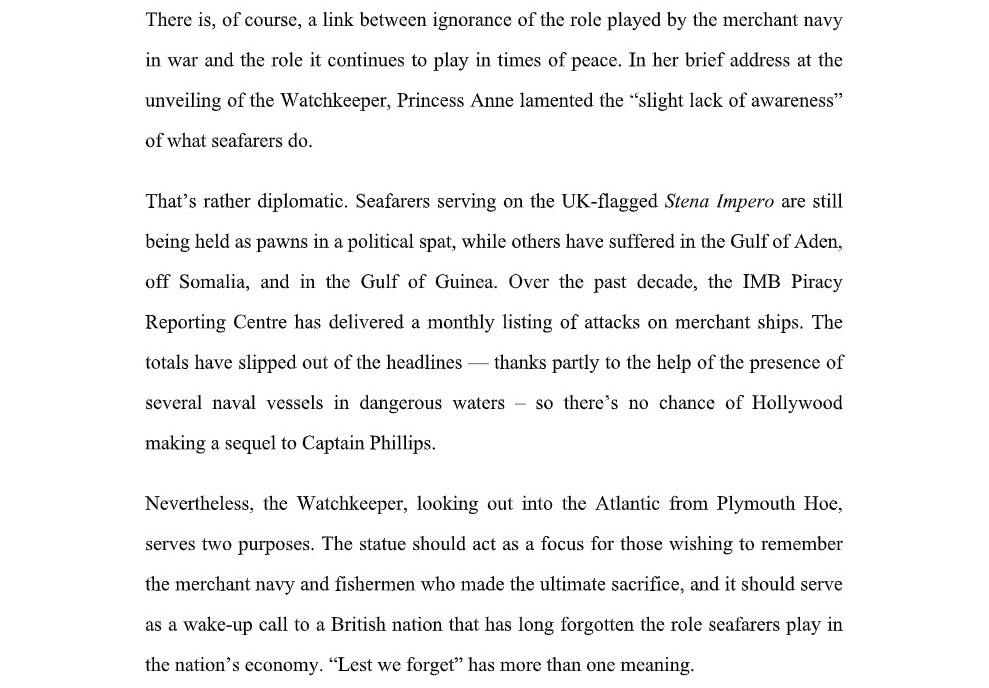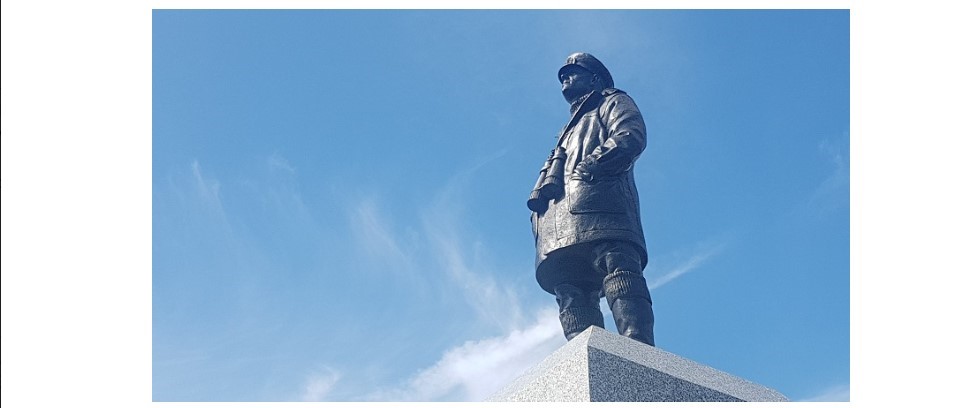 Groet
Jan