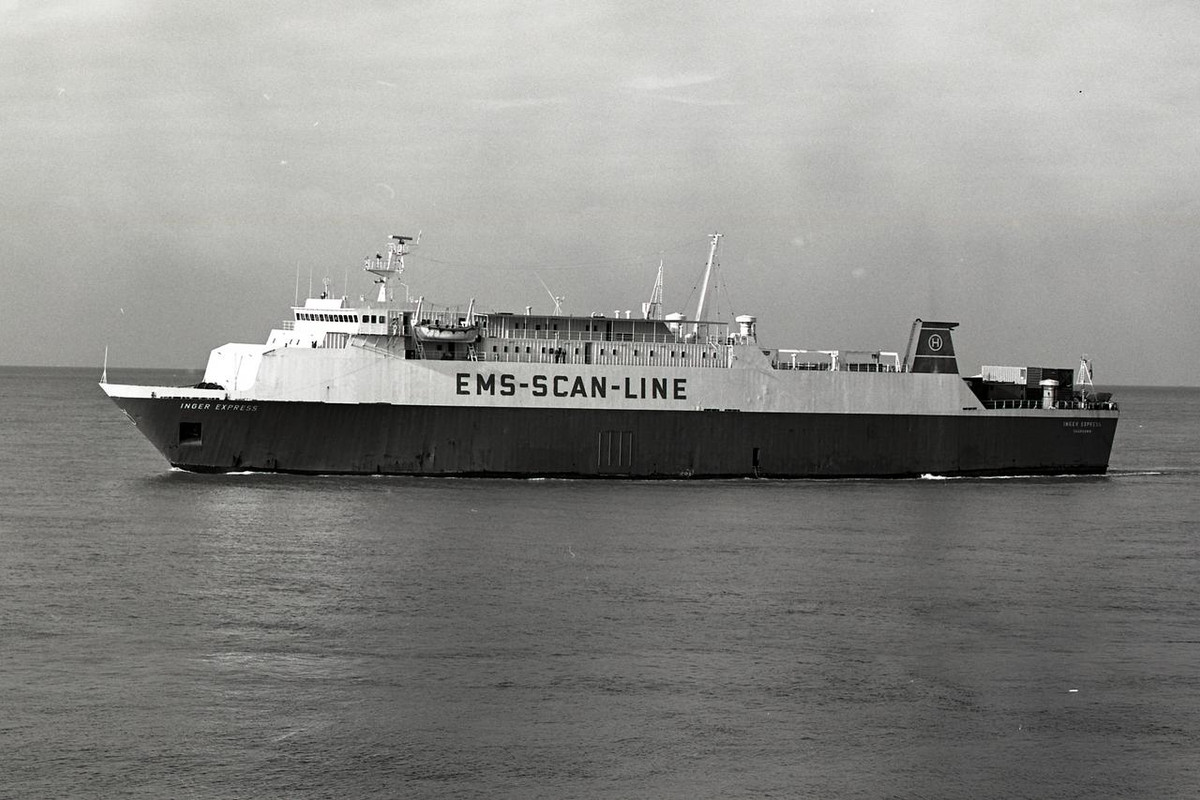 photo: (c) Piet Anderiesse (R.I.P) courtesy Jan Anderiesse
INGER EXPRESS 1978 – 1981
Built as SEASPEED DORA in 1976
Shipyard: Trosvik – Porsgrunn completed by Trosvik – Brevik Yard No 129
Dimensions: 126.40 x 19.40
Tonnage : 3338 gross // 5675 dwt
Type: Ro/Ro
Owner: Knut H.Hermansson a.o
Homeport : Skarhamn Flag : Sweden
History:
Into service as SEEASPEED DORA 1976 Launched: 26.03.1976 Completed: 30.10.1975
01.06 .1977 capsized in the port of Jeddah // CTL
November 1977 bought by Knut H.Hermanson as is. Towed to Goteborg for reparation arrival 12.01.1978.
1978 into service again as INGER EXPRESS.in charter for AG Ems // Ems Scan Line- Goteborg – Esbjerg – Eemshaven
1979 in charter for Roto – Line: Felixstow – Zeebrugge – Walhamn – Oslo
1981 sold to Argentina cancelled but sold to Belgium as MARCEL C // Cobelfret
1989 sold as BASSRO STAR
1995 ENDEAVOUR
1997 MARCELINE
1998 BEATRIXHAVEN
2003 HUMBERWAY
2008 GUMEL
01.06.2011 broken up Aliaga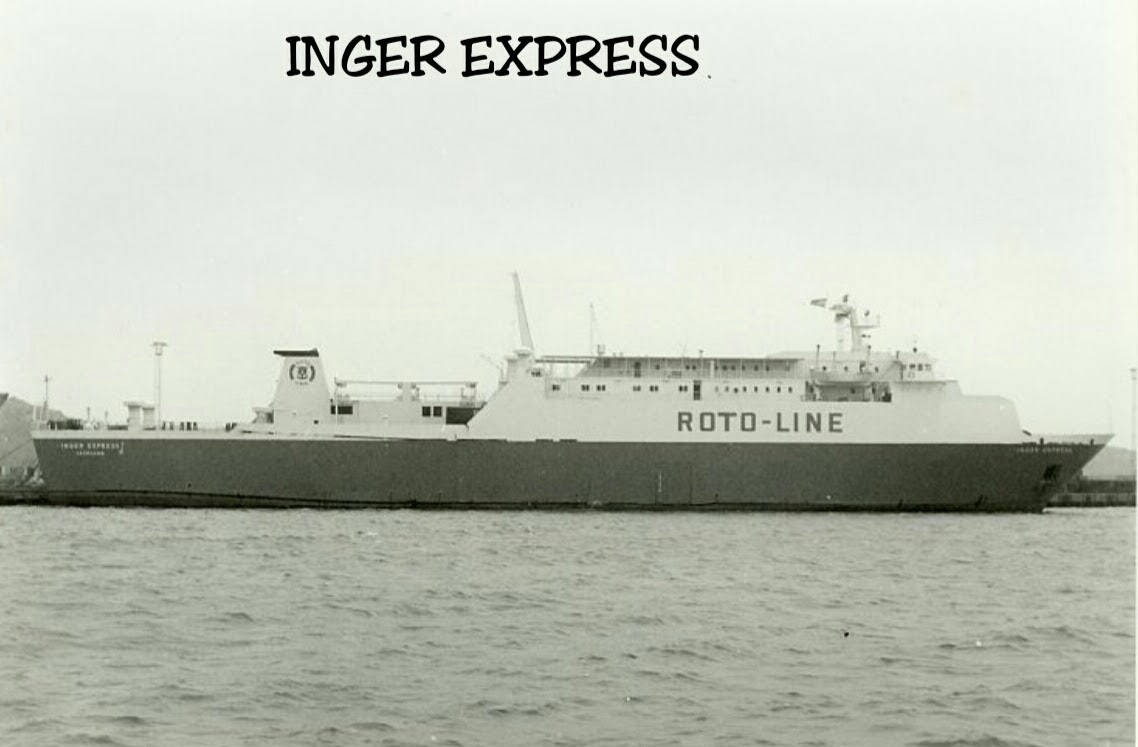 photo: Bengt Petterson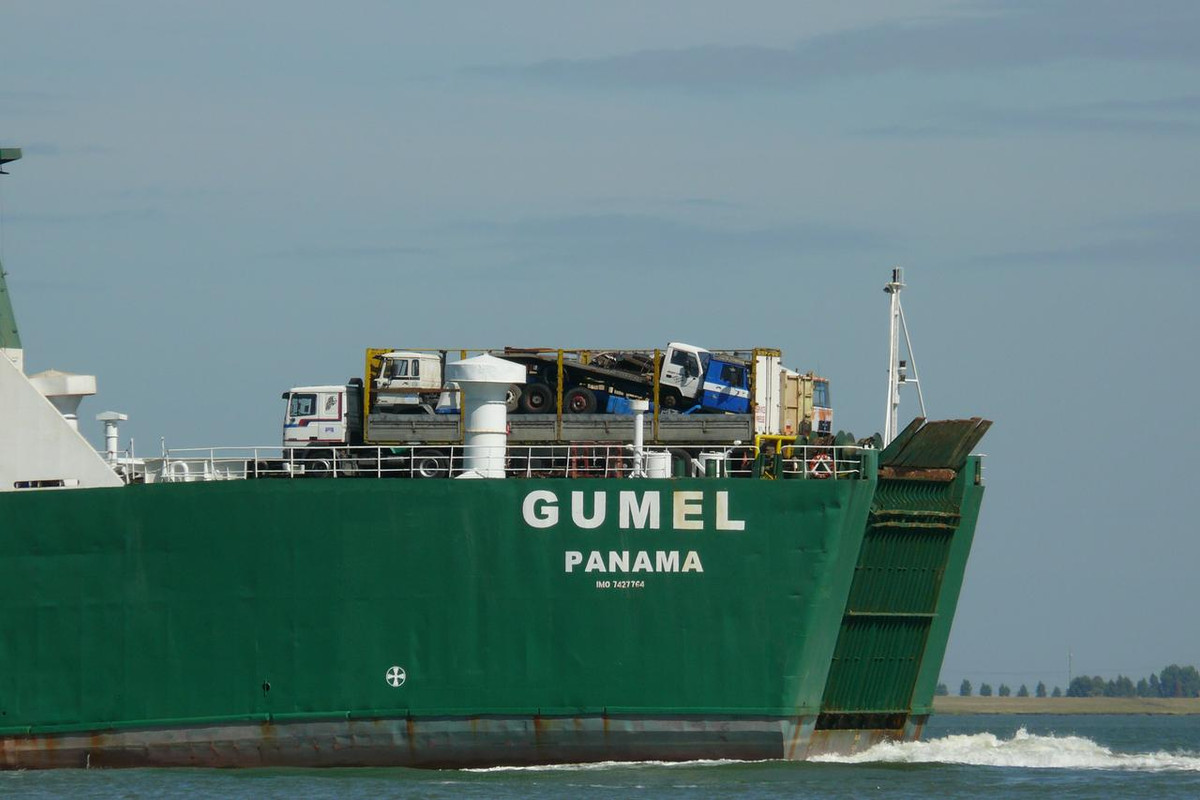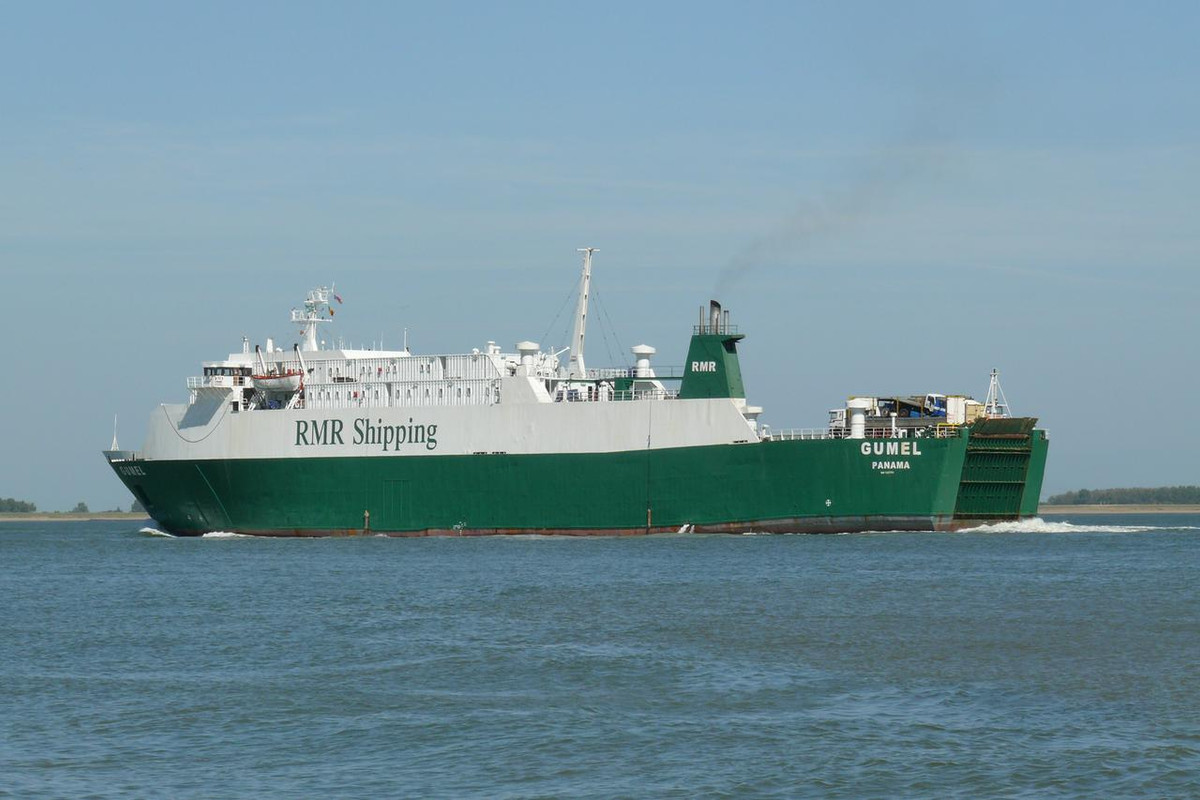 23 & 30.05.2009 passing Walsoorden / Westerschelde
© H.Pieterse
Archive: H.Pieterse// Data LR a.o.
VIKARIE SKEPPARE PÅ "INGER EXPRESS"
M/S "Inger Express"
År 1978 på sommaren ringer telefonen och min fru svarar."Ä Lasse hemma?" hör hon den välkända sävliga rösten från Knut Hermansson. Nu gällde det Ro-Ro fartyget "Inger Ex­press" om ca 10 000 dwt.
Detta fartygsförvärv var återigen en av Knut Hermanssons fantas­tiska affärer som bara ett affärsgeni går iland med. Fartyget hade kantrat under lossning i Jedda och låg med bb,s sida under vattnet. Djupet vid haveriplatsen var exakt halva fartygets bredd. Halva fartyget låg således ovan vatten­ytan. Att beräkna renoveringskostnaderna för att återställa ett sådant fartyg måste ha varit mycket svårt. Han bogserar hem fartyget och hela familjen engagerar sig i renoveringen.
När fartyget var renoverat fick han en charter av en tysk skeppsredare som satsade på en ny linje mellan Göteborg – Esbjerg – Eemshaven. Fartyget var toppmodernt med all den utrustning som fanns att tillgå på den tiden. Maskinstyrkan var 10.000 HK och det fanns bogpropeller både fram och bak.
Den förnämliga dataanläggningen, där man planerade lasten och fick fram stabiliteten, borde ha förhindrat en kantring. Våra unga hyper- intelligenta styrmän, använde den mest till att simulera månlandningar med. Något lastintag be­hövde de inte beräkna, eftersom vi endast fick ett fåtal lång­­tradare och lite cyklande turister per resa.
Ett fartyg som varit vattendränkt är naturligtvis inte lätt att renovera så perfekt, att inga driftstörningar uppkommer då man tar det i bruk. Vi fick många "black out"-er då huvudmaskin stoppade. Jag hade tur att få "black out" i rum sjö utan tät trafik. Vid ett tillfälle fick de "black out" vid Dyrön varvid hon rände in i berget intill Dyröns hamn. Jag var alltid noga med att koppla om, från axelgeneratorn till hjälpmaskin, utanför angöringsbojarna vilket eliminerade haveririsken.
När jag var ombord för tredje gången, i november månad, blåste det västlig storm. Esbjergs hamn är mycket exponerad för västliga stormar och därtill kommer att den inre hamnen är underdimensionerad för ett så pass stort fartyg. När vi kommer in sent på kvällen upptäcker vi att där låg ett antal minsvepare utefter kajerna i lä. Vi girar upp mot ro-ro läget och eftersom det regnade kraftigt gick båtmännen inte ur sina bilar och kunde därför inte fånga upp vår kastlina. Det var omöjligt att hålla henne kvar med vinden in på bb,s bog och vi drev av kajen. I det läget fanns det ingen chans att göra ett nytt försök efter­som det var stor risk att driva ner och krossa träbåtarna.
Vi lämnade hamnen och jag ringer upp vår huvudagent och beskriver läget och ifrågasätter om det verkligen är nödvän­digt att göra ett nytt försök för att lossa och lasta ett par lång­tradare. Trots att jag talade om för honom, att vi mås­te anlita två bogserbåtar vid ett förnyat försök, insistera­de han på att vi skulle angöra hamnen.
När vi kommer in i inre hamnen beordrar vi den ene bog­serbåten att trycka mot vårt förskepp om babord för att komma runt. Bogserbåten kör då med full fart in i vår babord sida och kröker flera kraftiga spant. Vi kom utan vidare pro­blem till kaj och bogserbåtarna fick trycka oss mot kaj för att hålla oss på plats under den tid vi låg där.
I Amerika har man alltid praktiserat att bogserbåtarna trycker mot fartygssidorna. I Europa skall fartygen koppla bogserbåten i en lång tross vilket gör att de inte förmår att dra in fartyget till kaj i frånkajsvind.
Bogserbåtar är inte skadeståndsskyldiga då de är på upp­drag. Om de går på grund under sin väg till ett uppdrag är beställaren ersättningsskyldig. Bogserbåtar och bärgnings­fartyg har, på grund av sin girighet, indirekt åstadkommit många katastrofala förlisningar till sjöss.
written by Lasse Larson